Arthritis Treatment in Austin
Millions of individuals struggle daily with arthritis pain, which can range from moderate to debilitating. Worse yet, the traditional arthritis treatment available not only fails to provide optimum pain relief but also produces a number of side effects, such as ulcers and other gastrointestinal side effects.
At HealthFirst Spine & Wellness, our aim is to help all our patients live an independent and healthy life, and in order to achieve this aim, we provide safe and effective arthritis treatment services in Austin.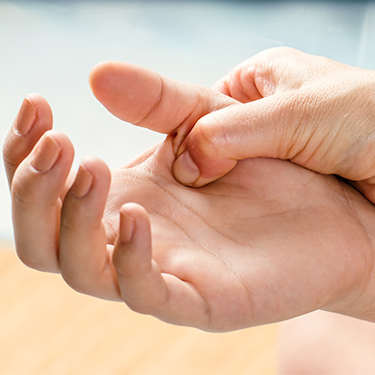 Our All-Natural Approach to Arthritis Treatment
We adopt a unique approach to pain relief that involves use of a number of techniques to relieve pain and restore the mobility of a patient, including chiropractic care, rehabilitative exercises, weight loss, and massage therapy. The primary aim is to relieve inflammation and pain and allow a patient to perform their day-to-day tasks independently in a pain-free manner.
When you visit a chiropractor at HealthFirst Spine & Wellness, they develop an individualized treatment plan keeping your health condition and your expectations under consideration. The main goal of the treatment plan is to provide you complete pain relief. Once the pain has been relieved, we provide supportive care to keep the arthritic joint as healthy and as functional as possible.
The arthritis treatment plan focuses on two things:
Reducing Inflammation — This is achieved through use of massage therapy and rehabilitative exercises. Individuals who cannot exercise due to excessively swollen joints are recommended to use ice packs or apply heat to relieve inflammation and pain.
Reducing Stress on the Joints — Chiropractic is the cornerstone stress-relieving technique that not only improves the range of motion of arthritic joints, but also improves muscle tone and strength. In addition to this, our chiropractors also use trigger-point therapy, massage, and active release technique to relieve the pain and improve joint function.
We're Here to Help
At HealthFirst Spine & Wellness, our objective is to take the pain away for patients with all forms of arthritis and help them lead an active and independent life. We do this by providing you high-quality chiropractic care for arthritis treatment in Austin.
Whether you're seeking rehabilitative care for arthritis or you've been suggested to visit a chiropractor by your healthcare provider, HealthFirst Spine & Wellness can develop a truly customized, effective, and safe treatment plan for your condition and help you take your first step towards an independent, pain-free lifestyle.
To learn more about our arthritis treatment services or to schedule a chiropractic consultation in South Austin, contact us today.