Rehabilitation Exercises in Austin
While chiropractic treatment is suitable for managing a wide range of diseases and injuries, there are certain conditions in which chiropractic care must be combined with other approaches as well, particularly rehabilitation exercises.
The rehabilitation exercises used at HealthFirst Spine & Wellness have been designed to restore flexibility and strength of bones and muscles and promote a quick recovery from the injury or disease. When developing a treatment plan for your condition, we keep your physical needs and your expectations under consideration and suggest exercises that are both effective and safe.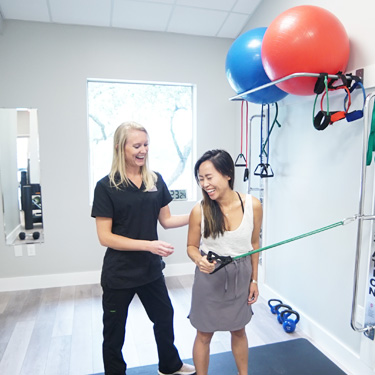 Pain Management with Rehabilitation Exercises
Since rehabilitation exercises are suggested based on the precise needs and medical conditions of a patient, they are safe and suitable for individuals with varying fitness levels. We treat all kinds of conditions at our Austin clinic. The rehabilitation exercises used by our skilled and experienced staff can offer relief from pain due to:
Chronic Injuries — Since rehabilitation exercises have been designed to produce gradual improvements in flexibility and strength, they are suitable for people with limited mobility and weakened muscles due to a chronic illness or injury.
Repetitive Stress Injuries — Repetitive stress injuries are not only difficult to treat, they also result in extensive damage to the muscular structure. At HealthFirst Spine & Wellness in Austin, we use exercises that re-strengthen the muscles and prevent reoccurrence of the injury.
Sports Injuries — Rehabilitation exercises can ensure a quick and complete recovery following a sports injury, helping a sportsperson get back to their athletic routine quickly.
Rehabilitative Therapy in South Austin Available Now
At HealthFirst Spine & Wellness, our aim is to offer long-term pain relief to our patients, and for this purpose, we combine best-quality chiropractic care with safe and effective rehabilitative therapy. The purpose of this approach is to help patients regain their strength and vitality as quickly as possible.
To schedule a chiropractic consultation in South Austin, you can contact us below or call 512-301-5996.