Chiropractic Rehabilitation in Austin
Looking for chiropractic rehabilitation in Austin, TX? Look no further than HealthFirst Spine & Wellness. Whether you need sports injury rehabilitation or have everyday aches and pains, improper posture, or injuries from motor vehicle accidents, we aim to relieve your pain and help you live a better life.
While chiropractic treatment is suitable for managing a wide range of diseases and injuries, there are certain conditions in which chiropractic care must be combined with other approaches as well, particularly spine rehabilitation exercises.
The rehabilitation exercises used at HealthFirst Spine & Wellness have been designed to restore flexibility and strength of bones and muscles and promote a quick recovery from the injury or disease. When developing a treatment plan for your condition, we keep your physical needs and your expectations under consideration and suggest exercises that are both effective and safe.
Chiropractic rehab exercises differ from general rehab exercises and sports injury exercises. Not only do they focus on pain relief, but also on the alignment of the spine. The following are a few types of chiropractic rehab exercises and their advantages:
Manual adjustment — Adjustments are an essential part of your treatment. Adjustments of the spine, neck and extremities can help relieve muscle soreness and decrease joint pressure, improving overall function.
Massage — Foam rollers and massage balls are essential tools that allow you to perform self-massage. They work the myofascial tissue and help keep it flexible. This tissue is located between the skin and muscle tissue, and it connects muscles to one another. 
Corrective exercises — These exercises are tailored to you and your condition. They may include stretches, weight training and stabilization workouts. They can help strengthen your back as well as your muscles and connective tissues.Cryotherapy has gained popularity in recent years, with many people using it to treat a variety of ailments, including pain relief.  Learn how it can help with pain relief.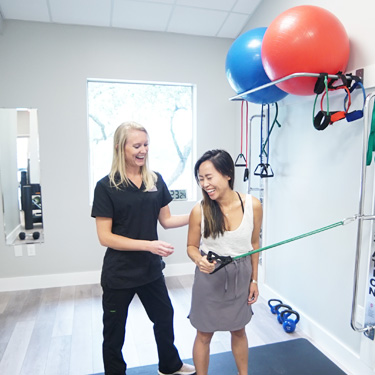 Pain Management with Rehabilitation Exercises
Since rehabilitation exercises are suggested based on the precise needs and medical conditions of a patient, they are safe and suitable for individuals with varying fitness levels. We treat all kinds of conditions at our Austin clinic. The back rehab exercises used by our skilled and experienced staff can offer relief from pain due to:
Chronic Injuries — Since rehabilitation exercises have been designed to produce gradual improvements in flexibility and strength, they are suitable for people with limited mobility and weakened muscles due to a chronic illness or injury.
Repetitive Stress Injuries — Repetitive stress injuries are not only difficult to treat, they also result in extensive damage to the muscular structure. At HealthFirst Spine & Wellness in Austin, we use exercises that re-strengthen the muscles and prevent reoccurrence of the injury.
Sports Injuries — Rehabilitation exercises can ensure a quick and complete recovery following a sports injury, helping a sportsperson get back to their athletic routine quickly.
Rehabilitative Therapy in South Austin Available Now
At HealthFirst Spine & Wellness, our aim is to offer long-term pain relief to our patients, and for this purpose, we combine best-quality chiropractic care with safe and effective rehabilitative therapy. The purpose of this approach is to help patients regain their strength and vitality as quickly as possible.
To schedule a chiropractic consultation at our chiropractic rehabilitation center in South Austin, you can contact us below or call 512-488-4558.