New Patients
When you walk into HealthFirst Spine & Wellness, you'll be warmly greeted by name. We've been expecting you! We'll offer you a beverage and give you a sheet that explains what you can expect today. Your chiropractor will see you shortly!
What to Expect
Please dress in comfortable, loose-fitting clothing. You'll be with us for about 30-45 minutes at your initial appointment.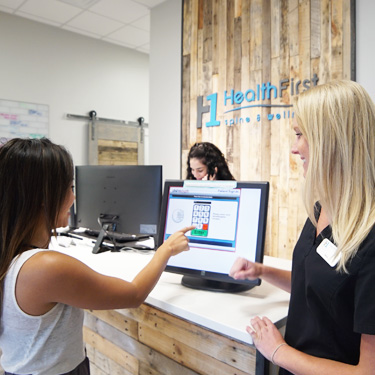 Your First Visit
You'll meet Dr. Brad or Dr. Nicole in a private room to discuss your concerns and what has brought you in to see us. We'll go to the examination room to perform testing, take digital posture photos and make a video of your movement patterns. X-rays will be taken if necessary. That's all we'll do on the first day because we take our time to analyze your case and discover how best to help you.
Following Up
At your second visit, we'll have a report put together for you that shows all the results from your testing. We'll discuss potential options for your care. You can choose if you'd like to get out of pain or take things further and restore your spine to the greatest possible level. We'll give you a chiropractic adjustment. You'll meet with our rehab team to have your muscles assessed. Later, our entire team will meet to discuss providing you the best care.
When we know how you've responded, we'll make our recommendations of how to restore your spine. We'll inform you about what you'll do in the office, at home, the time commitment and all financials involved.
Your Care is About Your Goals
You can start and stop care with us whenever you choose. We're here to help you reach your goals. If you would like to participate in an ongoing spinal conditioning program, you can see us periodically to maintain the health of your spine. You can think of visiting us regularly like how you go to the gym to keep your muscles and heart-healthy. We'll keep your spine in great shape!
Coverage and Payment Information
We are in-network providers with Cigna, UnitedHealthcare, MultiPlan, BCBS, Aetna and Medicare. Don't have coverage? We'll be happy to discuss a payment plan with you. Contact us today!