Our Approach at HealthFirst Spine & Wellness
Dr. Holden has taken his 25 years of experience helping over 11,000 individuals regain their health and combined that with hundreds of hours of post graduate study to create a unique approach to care, which includes understanding your goals, evaluating your alignment, and developing a customized plan for each individual. This approach ensures the highest quality of care to help you achieve optimal health and wellness.
Understanding Your Goals
Our approach to care is built on the premise that in order to provide the correct treatment, we must understand what your goals are. Are you interested in temporary relief or are you looking to correct the underlying cause of your health problem? On average 92% of our patients want to identify and correct the cause.
Un-rushed consultation
What are your problem areas?
When did they begin?
What have you tried before to fix them?
What are your goals?
Why do you want to reach them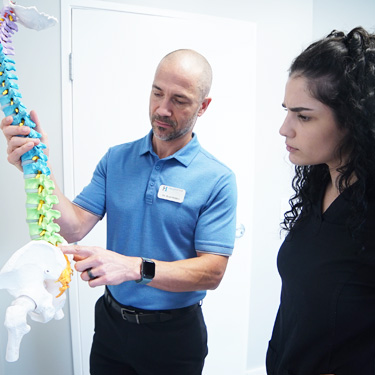 360 Degree Evaluation™
In order to determine if we can help you and what that plan may look like, we have to have a complete picture of your alignment, both from a static and dynamic perspective. Our 360 Degree Evaluation™ provides us that, it includes:
Digital Posture Assessment
Spinal Motion Analysis
Digital Biomechanical X-Ray Analysis
Functional Movement Video Analysis
Orthopedic and/or neurological evaluation when necessary
Individualized Solutions
When correcting spinal problems, the solution should address the spinal joints, the ligaments connecting the spinal segments, as well as address the muscles supporting the spine. Each individual is given a customized program depending on their individual needs.
Precise Spinal Adjustments
Soft Tissue Mobilization
Cold Laser therapy when needed
Individualized Corrective Exercise prescription
Spinal Re-Modeling Program
Specific Home Care Instructions
Progress Evaluations
At HealthFirst Spine & Wellness we don't keep doing the same thing over and over again. Your results and progress will be measured at regular intervals and treatment adjusted based on your progress.
Once you have reached maximum progress you will be released from active care and will have the choice to continue on with periodic maintenance visits or you may discontinue all care. The choice is yours.