From Race Car Dreams to Helping Others
When Dr. Brad was 10, his mom was in a serious car accident. She was no longer able to be involved in his scouting program or volunteer at school. For two years, she went on a journey to find a solution for her chronic neck pain and headaches. The specialists she saw would give her exercises or medications, and nothing worked.
Finally, she went to the local chiropractor. Dr. Brad accompanied her, noting that the waiting room was full and everyone seemed happy. It wasn't like any other doctor's office he'd been to before! The chiropractor gave Dr. Brad's mom a thorough evaluation. Within a month, there was a significant improvement. In three months, she was back to being herself.
Though he was just 12, Dr. Brad's mind was made up. He gave up his original passion of becoming a race car driver and decided to enter the chiropractic profession.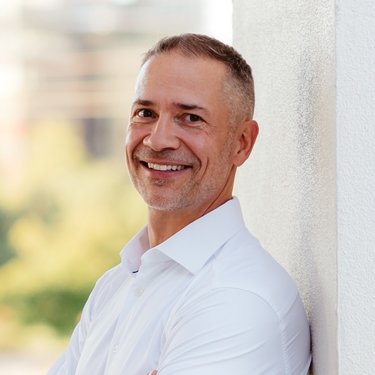 Years of Education and Further Training
To earn a Doctor of Chiropractic, Dr. Brad attended Life University, graduating in 1992. While there, he became a senior intern and supervised other students in the clinic. It was on his rounds there that he met his wife, Dr. Nicole Holden.
Dr. Brad is board-certified by the National Board of Chiropractic Examiners in Chiropractic and Physiological Therapeutics. The postgraduate studies he has taken on include
Active Release Techniques® (ART)
Chiropractic BioPhysics® (CBP®)
Cold Laser Therapy
Corrective Exercise Specialist (CES)
CrossFit Certified Endurance Coach
NeuFit Technology
A Comprehensive, Personal Approach
Over Dr. Brad's years in practice, he has refined a precision approach to uncovering each patient's core issue. "I take pride in connecting with people and understanding where they're coming from." After struggling with his own back issues, he realized that the best approach was multifaceted. He looks at the structural, functional, and emotional components of your problem, implementing an array of solutions to reach your goals.
Loving to Live Actively
Dr. Brad is originally from Michigan and enjoys the warm climate the South Austin area has to offer. He has been married for more than 20 years and has three sons. One plays tennis at Princeton; another is studying to become a chiropractor, and his youngest is at home and also plays competitive tennis.
Outside of HealthFirst Spine & Wellness, Dr. Brad likes to hike, mountain bike, do triathlons and marathons, CrossFit, and endurance train. He also loves to take runs with his Goldendoodle, Tiger.
If you're ready to learn more, we're here for you. Contact our friendly team today to book your free consultation with us!