Localized Cryotherapy in Austin
Imagine getting the healing benefits of ice without placing an ice pack on the affected area for 20 minutes. At HealthFirst Spine & Wellness, we're now offering targeted cryotherapy for those with an active injury. We've chosen to use the Cryo 6 from Zimmer MedizinSystems. Unlike other cooling methods, the Cryo 6 reduces the skin temperature faster, with less risk of skin burns.
The Cryo 6 from Zimmer MedizinSystems is the newest generation of Cryo Therapy systems. It uses cooled air for efficient pain treatment with precise placement so the right area is treated, every time. This system also reduces swelling and promotes muscle relaxation without preventing the ability to operate all day.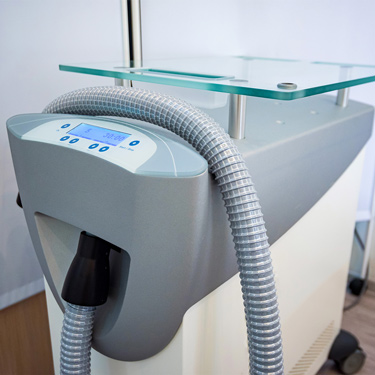 Conditions That Cryotherapy Can Address
Whether you're dealing with chronic pain, a pulled muscle, swelling or an inflammatory condition, different types of cryotherapy can help. More comfortable, convenient and effective than soaking the injured area in ice, local cryotherapy rapidly cools down the skin and can address many conditions, from injuries to sore muscles. Many athletes find that cold temperatures help speed recovery from various sports injuries, whether in the ankle, shoulder, or other location.
The cooling treatment directly combats inflammation and swelling, chronic pain, and more. As extremely cold temperature numbs the area, it can reduce pain in specific areas, while working against muscle spasms and damage to tissues or blood vessels. Just about any area of the body can be treated externally. This modality works by cooling the outside of the skin, reducing blood flow to the area, thereby reducing swelling and inflammation so that the body can heal from the outside.
Here are some of the most common conditions that can be helped with localized cryotherapy treatments:
Ankle sprains
Arthritis
Muscle spasm
Plantar fasciitis
Shin splints
Shoulder strains
Tendonitis
Tennis elbow
What to Expect During Cryotherapy
Localized cryotherapy in Austin is a quick treatment that streams concentrated nitrogen vapor to targeted problem areas. The treatment is painless and fast. It works by speeding up the healing process by flushing the blood out of the injured area rapidly in approximately three minutes.
Major Benefits
Faster muscle recovery
Reduces pain, swelling and inflammation
Speeds up the healing process
More powerful and efficient than icing
Effective for chronic pain management
Very safe, quick, painless and relaxing
Superior to Ice Pack Treatment
The traditional external method of treating acute pain was using an ice pack. We believe that localized cryotherapy is preferable to icing. Cryotherapy only exposes the skin to a constant therapeutic temperature instead of using moisture as ice does. Another major benefit of the treatment, when compared to ice packs, is that once the therapy is done, you can immediately flex the target area. With ice packs, the target area will have some stiffness and numbness until it gets warmed up.