Cold Laser Therapy South Austin TX
At HealthFirst Spine & Wellness, we are committed to stay on top of the latest and most effective treatments in order to offer our patients optimal pain relief. Therefore, we have made Cold Laser Therapy a part of our pain management program. This is a technology advanced technique that has been scientifically proven to be effective for treating a wide range of musculoskeletal conditions.
What is Cold Laser Therapy?
Cold Laser Therapy is a modern alternative to acupuncture, a traditional pain management technique. Just like acupuncture, it stimulates the healing process by targeting certain trigger points of body. However, unlike acupuncture, it is a non-invasive technique which means that it doesn't use needles to promote pain relief. Instead, a laser beam is used to target the affected tissues and relieve pain.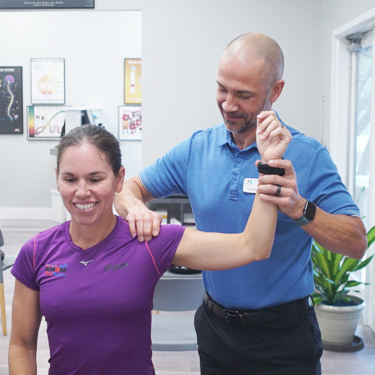 What is Cold Laser Therapy Good For?
Cold laser therapy is a safe and effective technique that not only relieves pain, but also reduces inflammation and edema and increases the strength of affected tissues. Therefore, it is used to treat a number of musculoskeletal conditions, including:
Arthritis
Back and neck pain
Sciatica
Fibromyalgia
Carpal Tunnel Syndrome
Sprain
Knee pain
Tendonitis
Tennis elbow
While cold laser therapy can be used as standalone treatment for all these conditions, when combined with chiropractic care, this modern pain alleviating technique yields improved results. Therefore, at HealthFirst Spine & Wellness, our chiropractors use this technique in conjunction with chiropractic adjustments to ensure you a quick and complete recovery. The use of this advanced treatment technique also allows us to offer optimum pain relief to the patient and restore their mobility and strength.
Get Started Today
To learn more about this technique or to schedule a chiropractic consultation in Austin, you may contact us below or call us at 512-301-5996.