Chiropractic Care In Austin
Looking for effective chiro pain relief? At HealthFirst Spine & Wellness, our chiropractors aim to relieve your pain and provide the compassionate care you need. Our approach involves state-of-the-art testing and a lengthy consultation to understand your concerns. We get to know you and your health issues so we can help you best. When it comes to chiropractic care in Austin, we are the team able to address a variety of concerns that affect your entire body, such as neck pain, low back pain, shoulder pain, headaches, and postural issues.
The Surprising Truth About Pain
Did you know that only 6-10% of the nerves in your body carry pain? That means when there is a problem with your nerves, you likely won't feel it at all. The organs and areas of the body that these nerves go to, however, won't be able to operate as they should. Our goal is to identify and correct areas in the body that aren't functioning properly, relieving your discomfort.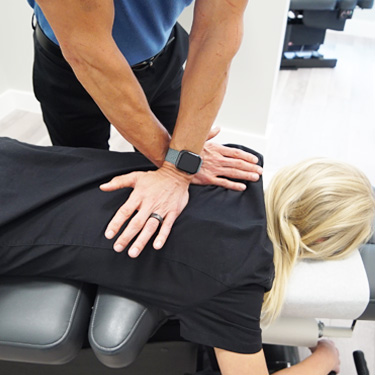 Restore Your Best Health
If you haven't been to a chiropractor or have only visited an injury chiropractor before, you might be wondering why more people than ever are seeking out chiropractic treatment. There are numerous benefits of chiropractic you can experience under our care:
Better mobility
Proper posture
The techniques we'll use will depend on our findings from your thorough examination with us. We'll provide you with good habits for good posture; We believe in finesse over force and can use an instrument to adjust you when necessary. The ArthroStim® is specific, effective and doesn't require twisting or popping.
Cold Laser and Rehabilitation Exercises
We want you to get better as quickly as possible. We've found that often, our patients get the greatest benefit from combining chiropractic with other solutions. We provide cold laser therapy to give your healing a boost. Our rehabilitation specialists will help you with specific exercises designed to provide you with the strength and stability you need. We'll even teach you what you can do in your own time at home to speed up your recovery. Whether you want relief from neck pain or are an athlete seeking a sports chiropractor, we can help.
Book Your Free Consultation
If you'd like to find out more about what we can do for you, contact our friendly team today! We'll get you set up for a complimentary consultation with our chiropractors. Late opening hours are available that work well for busy schedules.