HealthFirst Spine & Wellness Reviews
What Our South Austin Patients Say
At HealthFirst Spine & Wellness we love when patients share with us their feedback and comments after chiropractic care. Please read our patient testimonials below to see what other people have achieved through their tailored treatment plans with us.
Share your stories too! Click here to send us your feedback so that we can help to spread the word about the benefits of natural HealthFirst Spine & Wellness care.
For more information or to schedule an appointment call or email us today.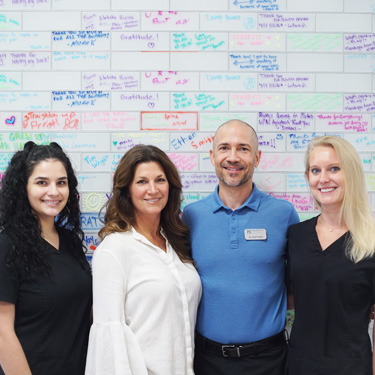 Going Above and Beyond
In 2015, I fell on my shoulder playing soccer with my arm outstretched. As a result of it not healing properly, I've dealt with musculature imbalance and curvature of the spine ever since, making it hard if not impossible to life weights with correct form.
I've been to two other chiropractors before this, done deep tissue massage, and tried multiple physical therapy clinics—nothing would help. Dr. Brad is going above and beyond to not only treat my pain but make sure that it doesn't come back.
– Rex L
Amazing Doctors & Staff
This place is GREAT! They have all the skills and tools needed to help you alleviate your pain. I was new to the Austin area, just moving here in July 2017. I had a lot of choices when looking for a chiropractor but I decided I would go for initial consultation with HealthFirst Spine and Wellness for two reasons.
First, the website said they could help me get to the root of the pain, not just treat the symptoms and second, because they also offered laser light therapy. I have been getting chiropractic adjustments for over 10 years. It always helped but the pain always returns and it is frustrating. At HealthFirst Spine & Wellness they did a full analysis showing me exactly why I was having the pain (so many things were out of place), what needed to change to alleviate the pain and a treatment plan necessary to make that happen. Including guided exercises both in house and as homework to help strengthen the weakened areas.
– Elizabeth S
I also, like so many of us had painful pressure points, little golf ball size knots in my shoulder and hip that were a chronic pain. I have had many massage visits trying to get rid of these knots in the past but they never would fully go away. HealthFirst introduced me to MyAct treatment, sound waves that pass thru and break up the knot. In just a few short treatments, the knots were gone.
I also suffer from atypical trigeminal neuralgia caused by a wisdom tooth exaction 5 years ago. This is a very painful condition that requires me to take several medications for nerve pain as well a blood pressure medicine. I had read a story about a lady with the same diagnosis who took laser light treatment and had some success so I talked to the staff at HealthFirst during my initial visit and said I would like to give it a try as well. I am pleased to tell you that the whole plan worked for me! The MyAct released the chronic knots, the adjustments helped to get me aligned properly, the exercises helped me to strengthen my core to help maintain the alignment and the laser light reduced my facial pain enough that I have been able to stop taking the nerve medication and after all of this my family doctor tells me that I no longer need the blood pressure meds. Don't get me wrong, I still have some face pain but I it is not nearly as severe as before and I am able to manage without all medication that came with seriously unpleasant side effects.
I still have soreness in my back from time to time but I know the exercises that will help and I will continue to visit the wonderful staff, Dr. Brad and Dr. Tony at HealthFirst for adjustments from time to time, just to keep everything lined up properly. When I started at HealthFirst I had a lot of pain going on in different areas and after just a couple of months of treatment I feel so much better, like a new person. I highly recommend HealthFirst Spine and Wellness for anyone who is suffering with chronic back pain and for anyone who really wants to get the source of the problem and help make it better. Also, if you happen to suffer with trigeminal neuralgia, it's totally worth giving the laser light therapy a try. It's a painless treatment and it was the icing on the cake for me.
Dramatic Change in My Life
I was searching for wellness … and found it at HealthFirst Spine & Wellness. This was my first experience with chiropractic treatment. I suffered with migraines, sinus headaches, infections, neck pain, left leg/knee swelling and constant pain on my left side from car accident several years ago. My sleep was minimal due to pain and even then I never truly rested. I was exhausted all the time. When I began my treatment I could not walk 1/2 a block without my knee swollen twice the size and in such excruciating pain. The headaches were common place in my daily life along with the pain. A typical allergy season would present 5+ infections.
I had no idea the impact that my spinal alignment would have on my entire overall health and well being. I began in Aug. 2016 with 3 times a week adjustments and core stretching and exercising. In Oct. 2016 I went on vacation to the beach and actually walked several miles a day. I have not had a migraine and my sinus headaches have been few but alleviated with facial/sinus treatment. I am walking, riding bikes, exercising, and have energy again. I am sleeping through the night! I have even lost weight during this process. I continue my stretches and exercise at home along with my once a week now adjustment. I can't believe the dramatic change in my life … I truly found wellness. And how could I forget … the doctors and staff are the best. They are caring, kind and compassionate. Thank You HealthFirst Spine & Wellness!
– Cindi C
Sinus Issues Reduced
Since my treatment plan went into effect, I've had a significant reduction in sinus issues. I haven't experienced any sinus or ear infections which have been a problem for most of my life. Weekly adjustments have even reduced my allergy symptoms, I no longer feel congested and sluggish during high pollen days and whatever minor symptoms are present don't warrant the use of allergy medication.
Overall, I feel more energy within my body and mind. I'm able to work out for longer periods of time and at higher intensities. I don't feel as drained at the end of a work day and I'm able to be productive afterwards.
Most significantly, my experience here as allowed me to realize what it really means to feel "good." When combined with other healthful lifestyle choices, the addition of chiropractic care has helped me experience how I should be feeling every day. Prior to chiropractic care, I was still an active individual with essentially the same schedule I have now but I felt like I was dragging myself through my day. Currently I feel better than I ever have before and I know I wouldn't be at this point without the HealthFirst treatment plan and guidance.
– Olga N
Sciatic Pain Relief
I am in my late sixties and had suffered a great deal of pain in the sciatic nerve that had become almost unbearable. Regular doctors offered pain killers and rest. This did not work and in a desperate attempt to find relief I made an appointment at Health First Spine and wellness. The doctors there were so professional and caring. They showed a deep understanding of what was wrong with my sciatica problem and gained my trust. I made the right choice. After corrective exercises and spine manipulation I am no longer in constant pain and can return to all the things I used to enjoy. I would recommend their services to anyone who needs professional care that seeks out and cures the problem instead of masking it with pain meds.
– Margaret M