Hip Pain Management & Treatment in Austin
As we get older, our joints and muscles start losing their mobility and strength, affecting our ability to perform daily chores effortlessly. Many patients start feeling constant pain in various parts of the body, particularly the hip joint, and may face difficulty sitting, bending, and twisting. Apart from aging, certain diseases such as arthritis of the hip joint, or trauma or injury may also result in hip pain.
At HealthFirst Spine & Wellness, we provide effective chiropractic care for hip pain management resulting from a variety of reasons to restore the strength and mobility of our patients and help them live a healthy, active life.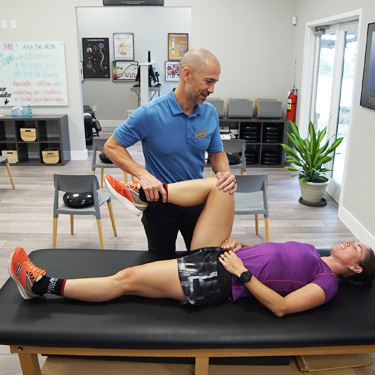 Chiropractic Care for Hip Pain
At HealthFirst Spine & Wellness, we have a team of expert chiropractors and other professionals who are proficient in the treatment and diagnosis of hip joint paint. Our chiropractors can help you if you suffer hip pain due to any of the following reasons:
Sciatica
Sprains and strains
Rheumatoid arthritis
Trauma or injury
Other conditions, such as tendinitis or bursitis
We use hip pain treatment in Austin such as chiropractic care along with other alternative therapies, such as massage and myofascial release, to restore the normal movement of the hip joint, as well as relieve tension on the surrounding muscles and ligaments. As a result, the patient is not only able to live a pain-free life, but also move independently and perform their day to day tasks effortlessly. We also provide supplemental exercises to keep pain free between treatments; read bout home exercises to prevent hip pain and improve mobility.
If you or a loved one is experiencing hip pain, we can help you by using our all-natural approach to the treatment of various musculoskeletal conditions. To learn more about chiropractic care for hip pain or to schedule a chiropractic consultation, contact us today.