Knee Pain Treatment in South Austin
Most people experience knee pain at some stage in their lives. In most cases, the pain is short-term and is alleviated on the use of pain relievers. However, for others, it may become a chronic hindrance to their ability to live an active and independent life. What makes the condition even more troublesome is that it can be caused due to a number of reasons, and therefore, diagnosing the underlying cause and suggesting the right treatment proves to be a time consuming process.
At HealthFirst Spine & Wellness, we are equipped with the latest diagnostic tools and technologies. Our team of healthcare professionals holds an extensive experience of providing care to patients with a range of musculoskeletal conditions, including knee pain resulting from a variety of reasons. With our chiropractic care for knee pain, we have helped many patients regain their joint mobility and achieve a healthier lifestyle.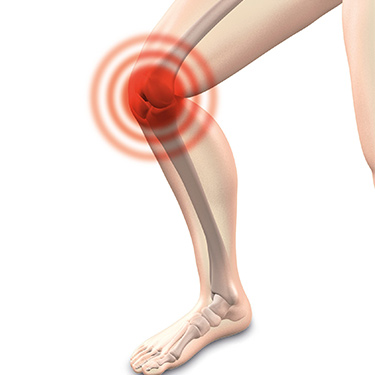 What Causes Knee Pain?
The knee is one of the most complex joints of the body, comprising of bones, ligaments, cartilage, muscles, and tendons. Coordinated movement of these structures allow to joint to move in an effortless, pain-free manner. However, the function and mobility may be affected due to a number of reasons, resulting in knee pain.
The possible causes of knee pain include:
Injury or trauma
Degeneration of the joint due to aging
Various medical conditions, including arthritis and rheumatoid arthritis
Musculoskeletal disorders affecting feet, ankle or hips
Chiropractic Care for Knee Pain
When you visit HealthFirst Spine & Wellness to get chiropractic care, our experts begin with an examination of your gait. This helps us determine the degree of stress, as well as the affected areas that may require a chiropractic manipulation.
In addition to chiropractic manipulation, we use any one or more of the following techniques to offer you optimum pain relief:
Rehabilitative Exercises — We suggest appropriate stretching techniques and other exercises to relieve the stress on your muscles and tendons
Massage and Myofascial Release — Patients who are experiencing knee pain due to an injury may respond better to myofascial release as this breaks down the scar tissue and restores the mobility of the joint.
Lifestyle and Dietary Modifications — Our chiropractors suggest ways to improve your posture as well as recommend dietary changes to relieve pain and to provide you the strength you need to perform everyday tasks.
Whether you're experiencing debilitating knee pain or have dealt with achy knees in the past, it is important that you do not overlook the issue and seek care immediately to avoid any long-term complications. Schedule a chiropractic consultation in Austin today to get rid of your knee pain. To learn more about chiropractic care for knee pain, contact us today.