Austin Whiplash Treatment
Whiplash is a common musculoskeletal condition that affects over three million people each year in the US alone. However, many individuals who experience a whiplash injury do not seek expert chiropractic care for Whiplash and, as a result, suffer long-term consequences.
At HealthFirst Spine & Wellness, we provide diagnostic and therapeutic services to individuals who have suffered a Whiplash injury during a car accident or any other event and experience pain, neck stiffness, fatigue, and other symptoms associated with Whiplash. Providing expert chiropractic care for Whiplash, we have helped many patients regain their strength and live a healthy, pain-free life.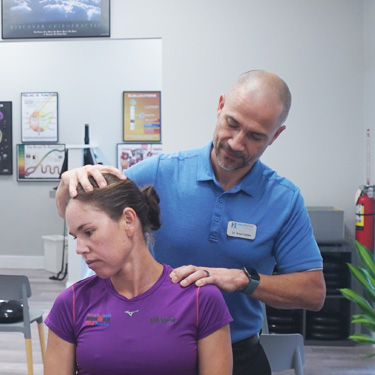 What is Whiplash?
Whiplash is an injury caused to the neck muscles due to cervical acceleration and deceleration, i.e., rapid forward and backward movement of the neck. Most commonly, whiplash injuries result from trauma during car accident, contact sports, amusement rides, or head banging to music. However, whiplash may occur due to neurological causes as well.
Generally, whiplash results in short-term symptoms of neck pain and restricted neck movement. However, patients who have experienced a more severe kind of whiplash may exhibit the following symptoms as well:
Neck stiffness and pain
Restricted movement of the neck
Pain in arms and hands
Dizziness and muscle fatigue
Sleep disturbances due to pain
Numbness or tingling in arms
Blurred vision
Ringing in ears
Chiropractic Care for Whiplash
Regardless of whether or not you experience stiffness and pain in the neck after a sports or car accident, it is important that you visit a healthcare professional to avoid any long-term consequences of whiplash in Austin. On your visit to HealthFirst Spine & Wellness, your chiropractor with examine your spine, identify the areas of restricted movement and pain, and use the following techniques to relieve pain and restore the normal movement.
Chiropractic Adjustments — By performing spinal adjustments via gentle, slow movements, your chiropractor will restore the mobility of the affected area.
Massage and Myofascial Release — Massage therapy, myofascial release technique, cold laser therapy, and other techniques will be used by your chiropractor to release muscle strain and tension.
To learn more about chiropractic care for whiplash or to schedule a chiropractic consultation in South Austin, contact us today.