It seems like standing desks are becoming more and more popular these days. In fact, many offices worldwide have adopted them to promote good health. But are they truly beneficial?
If you think of it simply, humans are made to be active. How do you feel after sitting for eight hours every day? A sedentary lifestyle can strain your muscles causing back pain and bad posture. In addition, some research has shown that it increases your risk of cardiovascular disease, type 2 diabetes and cancer.
The Benefits of Standing Desks
In terms of your mental health, standing desks have shown an increase in mood and alertness among workers. However in terms of productivity, research is still lacking. There has been no increase in typing speed or mouse proficiency. In fact, people who have opted for treadmill desks have been slower to complete tasks.
The overall takeaway is promoting a healthy and active lifestyle is best. Some other solutions to avoid sitting all day include: taking a walk during your breaks, stretching and doing exercises at your desk, and holding meetings outside (perhaps even strolling while discussing) allowing you to change your environment and even be a little active. If you are aware and make conscious decisions to better your health, you will feel better both physically and mentally.
Some of Our Favorites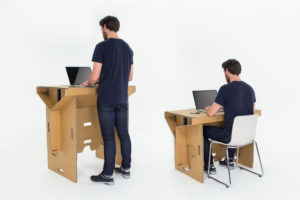 Refold
Benefits: recyclable material, easy to assemble, affordable, portable
The Refold desk is is an affordable option for anyone who wants to transition into from sitting to standing seamlessly, and without committing to any permanent desk yet. What is even better is the lightweight and portable nature that allow you to work in any environment.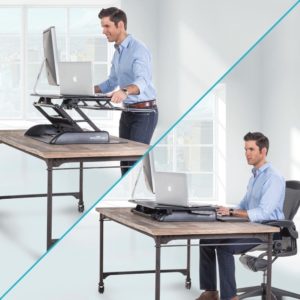 Varidesk
Benefits: easily adjustable, various models, no assembly
The Varidesk is a great option as an add-on component to turn any desk you currently have into one you can stand at. There are various models with options to have multiple monitors or add a laptop. We like this one for it's easy, adjustable structure. Also Varidesk sells other accessories such as standing mats, that promote a healthy lifestyle.
DIY Ikea Desk
Benefits: affordable, easy assembly
We understand, not everyone has the money to spend on a standing desk. But that doesn't mean you should put your health on hold! There are other options.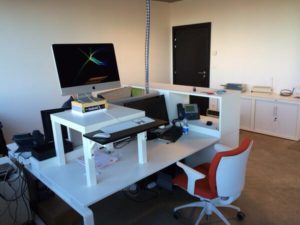 This one in particular utilizes three materials you can buy from Ikea: lack-side table, viktor shelf and two ekby valter brackets. The downside would be the lack of adjusting it to fit your ideal size, but this could be your best option if you are looking for something more affordable.
If you have questions or would like to schedule an appointment with Austin chiropractors, contact Healthfirst Spine & Wellness at 512-488-4558.