Carpal Tunnel Syndrome Treatment in South Austin
With the increasing use of technology and computers at the workplace, the number of individuals experiencing pain, weakness, and numbness due to carpal tunnel syndrome has also increased greatly.
At HealthFirst Spine & Wellness, our aim is to help our patients maintain a healthy and active lifestyle and offer them relief from the consistent pain that may affect their personal and professional lives. Therefore, we use chiropractic care in combination with other techniques to treat the symptoms of carpal tunnel syndrome and restore the mobility of the affected arms.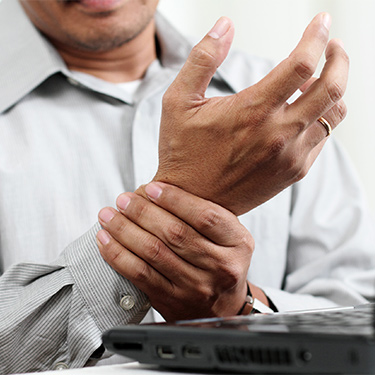 What is Carpal Tunnel Syndrome?
Carpal tunnel syndrome is a kind of work-related injury that's caused due to compression over a nerve because of fluid retention or by continual repetitive movements, such as typing or data entry. The condition results in the following signs and symptoms:
Numbness or tingling in the thumb, index, and middle fingers, and sometimes in the palm
Muscle weakness which may result in difficulty grabbing objects
Dull ache in the upper arm
Chiropractic Care for Carpal Tunnel Syndrome
Currently, the only viable medical treatment for carpal tunnel syndrome is steroid injections which may produce a number of side effects. Apart from steroids, a surgical intervention may be used for patients with severe symptoms.
At HealthFirst Spine & Wellness, we use an all-natural approach to help you avoid the side effects and pain associated with medicines and surgery, and provide you the best chiropractic care in Austin for carpal tunnel syndrome. Our expert chiropractors not only promote wrist mobilization with chiropractic manipulation and suggest you different exercises to relieve excess pressure on your nerves.
Whether you believe you have carpal tunnel syndrome or you have already been diagnosed with the disease and have tried a number of pain-relieving techniques with no results, our chiropractors should be able to offer you safe and effective chiropractic care that will not only relieve pain, but improve the arm mobility as well.
To learn more about our services or to schedule a chiropractic consultation in South Austin, contact us today.