Herniated Disc Treatment in South Austin
Spinal disc herniation is an extremely painful condition that may leave a person bedridden. Caused due to aging or trauma, herniated discs remain non-responsive to medicines and can only be treated by a surgery.
At HealthFirst Spine & Wellness, we provide a non-invasive, relatively pain-free treatment for herniated discs by combining several alternative treatments, such as chiropractic, massage therapy, cold laser therapy, and myofascial release. In addition to management of pain and other symptoms associated with herniated discs, our chiropractors also suggest you rehabilitative exercises to help you strengthen your spine and improve your posture.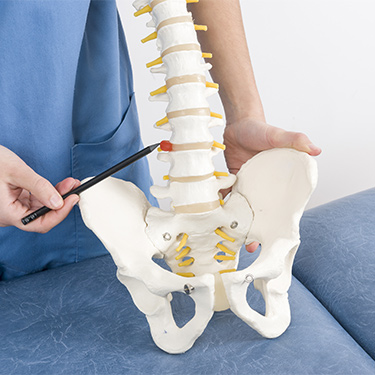 What are Herniated Discs?
Spinal discs are components that provide shock absorption and protect the spinal cord. Trauma, injury, or aging may result in tearing of the ligaments of spinal discs, leading to spinal cord compression and severe pain. The symptoms associated with herniated discs include:
Moderate to severe pain
Numbness and tingling
Muscle weakness
Paralysis, in severe cases
The medical treatment of herniated discs is limited to the use of pain relievers which themselves may produce a number of side effects on long-term use.
Chiropractic Care for Herniated Discs
The care of a patient with herniated spinal discs is far from standardized and must be individualized for each individual. Therefore, at HealthFirst Spine & Wellness, our chiropractors go through the medical history of the patient and conduct a thorough physical examination to determine the type of spinal injury they may have and suggest treatments accordingly.
Generally speaking, a combination of the following treatment techniques are used to relieve the symptoms associated with herniated discs:
Spinal adjustments
Massage therapy
Cold laser therapy
Rehabilitative exercises
The specifics of a treatment plan depends on the severity of pain experienced by a patient, their level of physical activity, their overall health, and the findings of any diagnostic procedures performed. In case a patient has experienced advanced loss of strength, reflexes, or sensation, our chiropractors will refer them to a spine surgeon.
If you are interested in learning more about chiropractic care for herniated discs or if you want to schedule a chiropractic consultation in South Austin, you may contact us today.