Upper Back and Neck Pain Treatment in South Austin
Today's modern lifestyle entails hours of desk work and driving which can greatly damage the flexibility and functionality of the neck, and therefore, it is not surprising to know that neck pain is the second most common musculoskeletal condition that affects people of all ages.
At HealthFirst Spine & Wellness, we provide diagnostic and therapeutic services to patients who are suffering from upper back and neck pain due to any reason and are facing trouble performing everyday tasks due to restricted movement of the affected joints. With chiropractic back and neck pain treatment, we help patients with a sedentary lifestyle avoid musculoskeletal injuries and live a healthy life.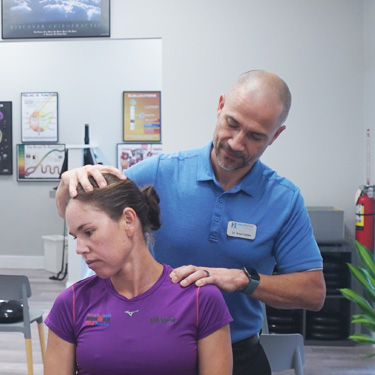 What Causes Upper Back and Neck Pain?
The neck is one of the most unique structures of the body. It has amazing flexibility, a wide range of motion, and the strength to support the weight of your head with very little muscular support. However, the complex mechanics and structure that are responsible for the amazing functionality of the neck also make it more vulnerable to injuries. From nutritional deficiencies to poor posture and repetitive strain, all can cause upper back and neck pain and restrict the mobility of this joint.
Some of the most common causes and risk factors of upper back and neck pain include:
Sedentary lifestyle
Strenuous exercises
Obesity
Sitting for long hours
Muscular strain or injury
Joint inflammation
Herniated spinal disc
Poor posture
Osteoarthritis
Vitamin D deficiency
Austin Chiropractic Care for Neck Pain
HealthFirst Spine & Wellness is one of very few back and neck chiropractors in Austin that have the advanced diagnostic technology and expertise required to offer optimum pain relief to the patient. Our team of chiropractors is experienced at treating a wide range of musculoskeletal conditions and help patients get back to their active, healthy lifestyle quickly.
Some of the techniques that we use at HealthFirst Spine & Wellness to help our patients get rid of the neck pain include:
Chiropractic Adjustments — Often time, neck and upper back pain results from postural imbalance. Our chiropractors make spinal adjustments to relieve the stress and offer patients advice on how to achieve the right posture.
Massage Therapy — Massage back and neck therapy is used to loosen the affected muscles and restore the functionality of the neck.
Cold Laser Therapy — Cold laser therapy not only relieves pain, but also reduces inflammation when used in combination with chiropractic adjustments and massage therapy.
Patients who are experiencing neck pain due to nutritional deficiency are provided with a nutrition plan to fulfill the deficiency and manage the condition.
To learn more about the effectiveness of chiropractic neck and upper back pain treatment or to schedule a chiropractic consultation in South Austin, contact us today.